Watch Video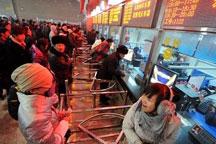 Play Video
A new train service schedule is being put in place around the country. The new timetable will allow for increased transportation capacity for both passengers and cargo. It will also help tackle the shortage of tickets for the upcoming Spring Festival travel rush. Zhang Nini has further details.
Starting Tuesday, more passengers will be able to head home and do so faster.
At the Beijing Railway Station alone, six new express train lines have been added, benefiting more than four thousand extra passengers each day.
"This new bullet train considerably cut the time of my trip. The old service is a fast train, which departs in the evening." One passenger said.
"I feel very lucky to catch the first train today. I will be able to arrive home tonight." Passenger said.
The new lines are expected to boost passenger transportation capacity by more than 13 percent. Cargo transport such as coal, crude oil, timber and steel should increase about 12 percent. The new lines are also expected to ease passenger flow during the Spring Festival travel rush.
Wang Yong, Spokesman of Beijing Railway Station, said, "The Beijing Railway Station is one of the busiest in the country. The new lines and the 586 temporary trains will help us cope during the busy travel period."
Major adjustments to the train timetable are made every four years, but changes are becoming more frequent due to China's extensive construction of high speed railways.
Professor Ji Jialun of Beijing Jiaotong University said, "By the end of 2010, more than eight thousand kilometers of high speed rails have opened around the country. The older lines are now used for freight. The new convenient transport is expected to benefit most people in China by 2015."
The new train lines are put into use eight days prior to the Spring festival travel peak. The Ministry of Railway estimates that 6.2 million passengers will be transported by train each day, up 11 percent from a year ago.
Editor:Zheng Limin |Source: CNTV.CN