Watch Video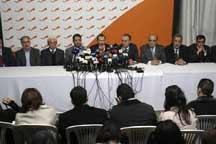 Play Video
In Lebanon, the country's national unity government has collapsed after 11 ministers from the 30-seat cabinet resigned. It comes as two rivalry blocs remain deadlocked on an investigation into former Prime Minister Rafik Hariri's killing in 2005.
Prime Minister Saad Hariri has headed to Paris. He will meet with French President Nicholas Sarkozy on Thursday.
Eleven ministers resigned on Wednesday afternoon causing the government's collapse. They include 10 from the Hezbollah-dominant March 8 Alliance and one close to the President Michel Suleiman.
Formed in November 2009, the national unity government comprised of 15 ministers from the majority March 14 Alliance, 10 ministers from the opposition March 8 Alliance and five close to the president, which was seen as a central party.
The Iran and Syria-backed March 8 Alliance announced that the 10 ministers resigned because of a months-long stalemate with Prime Minister Saad Hariri. The standoff was over a UN-backed tribunal investigating his father and former Prime Minister Rafik Hariri's assassination.
Lebanon's Western and Saudi-backed March 14 Alliance reiterated their support for the tribunal.
Shiite armed group Hezbollah and its supporter Syria strongly deny they were involved in the 2005 killing.
Tensions have been mounting amid speculation that the tribunal will indict some Hezbollah members.
Lebanese Labor Minister Boutros Harb said, "This situation puts us into administrative and political crisis, which increases complications in the country and does not contribute towards solving any of the problems."
The government collapse comes as Prime Minister Saad Hariri meets with top US officials in Washington.
Hariri, who leads the March 14 alliance, initiated a round of diplomatic efforts to save the government during his visit the US.
US Secretary of State Hillary Clinton said Lebanon's coalition crisis was an attempt to subvert justice, adding it would not derail the UN-backed tribunal's investigation.
Editor:Zhang Ning |Source: CNTV.CN