Watch Video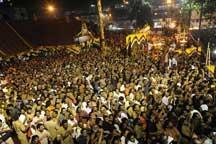 Play Video
Indian media has reported that the death toll from Friday's stampede in the country's southwest, has risen to 100.
The tragedy occurred, when a jeep overturned and ploughed through a crowd of pilgrims who were returning from a temple after a ritual in the southern state of Kerala.
The temple's spokesman, says 90 others were injured. Hundreds of THOUSANDS of people, gathered at the hill shrine, of Saba-rimala on Friday, the last day of an annual religious festival.