Watch Video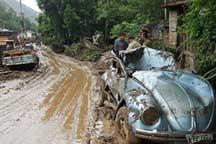 Play Video
Brazil's worst natural disaster in several decades has claimed at least 514 lives in the country's South-east.
Heavy rain has triggered massive landslides that has covered several towns, leaving thousands homeless and hundreds under the rubble.
In an instant, hundreds are buried and made homeless.
Torrent mud and water swept away trees and sent boulders larger than cars rumbling down hillsides, destroying everything in its path. It left at least 514 people dead and left more than 13 thousand homeless. Officials said the death toll in four towns north of Rio de Janeiro was still rising, and could jump further.
Victims say that few helicopters are reaching remote areas, and were only evacuating the injured. They pleaded for help, but were left to save themselves. Recovery efforts have been taken by the government as temporary shelters spring into use.
Edmar Da Rosa, Injured Flood Victim, said, "If it wasn't for those people around me here, I wouldn't have survived."
However, many flood victims are still isolated by this deadly natural disaster. Rescue and aid operations are proving difficult, as access to the affected mountainous areas around 100 kilometers north of Rio remain limited.
Officials from Rio state's health services says that hospitals have ample space and are coping well with the injured. Health officials say most injuries are not life threatening, but that infections remain a big worry.
Carlos Eduardo Coelho, Medical Worker, said, "What worries us more at the moment are the complications that are going to come later, because most of the patients that we were taking care of were buried in mud and very dirty areas."
Flooding and mudslides are common in Brazil when the summer rains come, but this week's landslides were among the worst in recent memory. The country's worst flooding and landslides hit Rio de Janeiro and Sao Paulo states in 1967, which killed 785 people.