Watch Video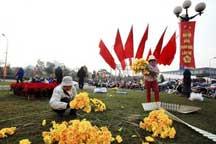 Play Video
The Communist Party of Vietnam, is holding its 11th National Congress in it's capital, Hanoi. Realizing the country's urbanization, while making sure everyone shares the benefit of economic growth, is high on the agenda.
Another long day in the rose garden for Chu Thien Do and his wife.
Flower farmers outside the Vietnamese capital Hanoi, they are picking the best buds for market.
They used to grow vegetables, but with the help of loans and expertise from the government, they switched to flowers and their profits blossomed.
But all is not well in the garden.
The farmland all around has been swallowed up by development, and they're not sure how long they can keep it at bay.
Chu Thien Do, Farmer, said, "At the moment I'm satisfied being a farmer, but I think in some years this area will become an industrial zone and I will have to change my job."
On the road beside their land large trucks thunder up and down delivering concrete and building supplies despite signs saying they shouldn't be there.
This farmer approached us to show the damage it was doing to the irrigation ditches that supply the farmland but nothing stands in the way of development here.
On the outskirts of the capital, colonial style boulevards in chic housing estates have replaced the rice paddies.
Urbanization like this is happening all over Vietnam as rapid growth brings foreign manufacturers into the country, and workers into the cities.
It is a major issue for the delegates at the 11th Party Congress.
The rapid growth of the past five years has bought with it crowded conditions in the cities and inflation that is rising at over ten per cent a year….those left behind in the countryside are struggling to keep up.
For those charged with maintaining the Party's ideology, it is fundamentally important to ensure that the distribution of wealth is spread more evenly as Vietnam develops, to ensure the urban rural divide doesn't grow too large.
Pham Van Linh, Deputy Director, Central Publicity Dept., said, "This is part of the natural process of industrialization, and we are looking at many solutions. Recently we have implemented policies to create more jobs in the countryside and improve the social welfare of those people moving to the cities."
Even for those who have stayed behind the outlook is good for the moment.
Despite an usually cold winter, the flower farmers have produced a good crop and the marigolds being sent off to market are in full bloom, Tony Cheng CCTV Hanoi.
Related stories
Editor:Zhang Pengfei |Source: CNTV.CN