Watch Video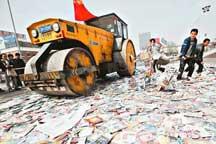 Play Video
The Chinese Ministry of Commerce has held a symposium, on protecting intellectual property rights and was attended by representatives from fifty five foreign enterprises, who gave their opinions on how to improve the legal environment for IPR protection and curb its infringement.
China is seen as a major target in the battle to tackle counterfeiting and copyright theft. But the situation is changing for the better. The country has stepped up its efforts to crack down on piracy, carrying out regular raids on counterfeiters and destroying fake products. More patents, designs and copyrights by foreign firms are being registered and protected in China.
The substantial improvement was clear at Friday's symposium, but many representatives hope the efforts will continue and not be a one-off show of action.
Wu also suggests the government increase the penalties for patent violations.
China's recent implementation of a six-month campaign of action through cooperation between several ministries shows the country's will to solve the problem. Between last October and next March, it covers goods including clothing, home appliances, audio visual products, food and pharmaceuticals, in their production, distribution, sale and transport. And it's generating positive results.
Though the actions address the concerns of foreign patent holders, they also show the inefficiency of the current legal framework.
Xiang Xin from the Ministry of Commerce says more efforts is needed to improve legislation and raise awareness.
Xiang Xin, Dep. Director, Office against IPR Infringement, said, "China has started relatively late in protecting intellectual property rights and is a developing country. The country has amended patent laws three times in line with international IPR rules, and carried out related obligations. And we are continuing to define the legislation and step up public education. "
Officials also note the increasing awareness of IPR protection is not only the result of inward pressure, but from the country's own need to shift from fast paced and quantity-oriented development to a quality based and technology-driven economy.
"IPR Protection is an important factor in a country's business environment. And China has made great efforts to provide a level-playing field. But more is needed to enforce copyright protection to ensure a stable, transparent and predictable business market for both domestic and foreign innovations."
Editor:Zhang Pengfei |Source: CNTV.CN