Watch Video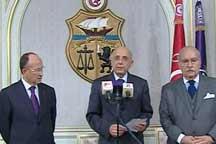 Play Video
Tunisian Prime Minister, Mohammed Ghannouchi has announced a new government. In it, several opposition figures have been appointed, in an attempt to restore political stability in the country, after the recent ousting of the president.
The Prime Minister made the announcement in a televised speech.
Ghannouchi and several top ministers retain their posts.
Three opposition figures, including Nejib Chebbi, a founder of the opposition PDP party, will take up posts.
The Prime Minister also says the new government is committed to releasing all political prisoners, and that anyone suspected of corruption will be investigated.
But demonstrators have again taken to the streets of the Tunisian capital Tunis, chanting slogans against former President, Zine El Abidine Ben Ali.
Others chanted slogans calling for bread and water.
A separate protest took place outside the headquarters of ruling party RCD, with protesters voicing anger against the idea of including members of Ben Ali's party in the new government.
Tunisian businessman Tariq Mohamed said, "We want to say to the members of the RCD that they are first of all Tunisians before being members of the RCD. All that we ask to those sons of Tunisia is to start again, to leave the RCD. We will create new parties and we need time for that."
Tunisian security forces fired tear gas to repel the angry protesters.
Over the weekend, police arrested dozens of people, as tensions mounted between Tunisians buoyant over Ben Ali's ousting, and loyalists in danger of losing many perks.
Fierce gun battles broke out between the two groups around the presidential palace Sunday.
On Monday, extra security forces were brought in to guard the palace, with a road block in place to filter traffic.
Editor:Zhang Ning |Source: CNTV.CN