Watch Video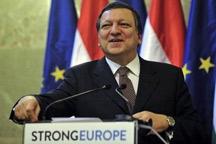 Play Video
In Europe, finance ministers of the 17 countries which use the Euro are battling over how to fight their debt crisis. The European Central Bank has so far been bearing the burden of calming jittery bond markets.
Despite an improvement in market sentiment, the finance ministers at their monthly meeting are aware that tensions could flare at any time. They fear Portugal could join Greece and Ireland in seeking a financial rescue.
But hopes are also mounting among investors that the governments can find a broad settlement to the problems that have afflicted the single currency bloc for more than a year.
However, the president of the Eurogroup says a deal is unlikely at the meeting.
Jean Claude Juncker, Eurogroup President, said, "We will begin today to talk about a comprehensive answer to the remaining elements of the crisis. That was the task from the summit in December. There won't be any decisions today."
The centerpiece of any prospective deal is expected to be an overhaul of Europe's 750 billion euro bailout fund.
Many of Europe's leading policymakers think the fund needs to be given more powers as well as more funds to quell any concerns that it could be overwhelmed if a country like Spain runs into trouble.
But Germany, the eurozone's effective paymaster, has so far ruled out any substantial increase of the fund's size.
German Finance Minister, Wolfgang Schaeuble, insists that bolstering the fund so it can actually lend the advertised 750 billion euros is as far as his country will go. But he says even that step should not be expected this week.
Editor:Zhang Jingya |Source: CNTV.CN