Watch Video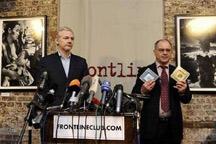 Play Video
A former Swiss banker, has passed along data, containing the account details of 2-thousand prominent people to Wikileaks. The data, which is on two discs, was handed over by Rudolf Elmer, at a press conference in London.
The former Swiss banker handed over details of hundreds of offshore bank account holders to the founder of the whistleblowing website, Julian Assange.
"What I want to do is to hand this over to Wikileaks."
Rudolph Elmer once headed the office of Julius Baer in the Cayman Islands before being fired.
He says he wants the world to see how the "system works".
He said, "I'm against the system. I know how the system works and I know that from day to day business. So from that point of view, I want to let society know what I do know and how this system works, because it's damaging our society."
Assange -- who Sweden wants to extradite from the UK for questioning over alleged sex crimes -- says he stands behind Elmer.
He said, "He is clearly a bona fide whistleblower and therefore I feel, given the past involvement in the case, that we have some kind of duty to support him in that matter."
Elmer also says he hopes his appearance at the news conference will both call attention to offshore financial abuses, and promote WikiLeaks as a resource for other whistleblowers.
He is scheduled to go on trial in Switzerland Wednesday for breaching bank secrecy.
Wikileaks will vet the data before publishing it -- a process it says will take at least two weeks.
Editor:Zhang Jingya |Source: CNTV.CN