Watch Video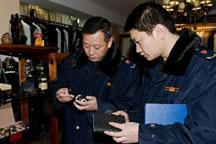 Play Video
With President Hu Jintao's pending visit to the US, top issues in China-US relations are once again attracting people's attention. Among them is Intellectual Rights Protection. During the years, the US has launched suits against China, citing IPR violation. For its part, China has stressed the importance of this issue, and improved its effort in protecting IPR and punishing violations.
In a speech by Chinese Commercial Minister Chen Deming, he says IPR has been an important issue in Sino-US trade. He says China and the US have shared targets and common interests in IPR protection. Currently, China is the third largest market for US technological export.
At the same time, China is laying more and more stress on technological innovation, with investment among the top five in the world in 2009. China is among the countries with the fastest increase in innovation investment and thriving innovative vigor.
In October, 2010, China initiated a six-month-long campaign in anti-piracy and anti-IPR violation. This is seen as the most strict fight against counterfeiting in China.
But Chen also points out that since China has lagged behind in IPR protection, counterfeiting is still rampant in many regions. Efficiency and intensity of law enforcement concerning anti-piracy still needs improving.
IPR protection is a tough task facing many countries. It requires global coordination and cooperation. Chen Deming proposes China and the US should reach a balanced consensus on standards of IPR protection, without hurting each others' interests. He also suggests strengthening information sharing and expanding bilateral cooperation in this area.
Editor:Zheng Limin |Source: CNTV.CN