Watch Video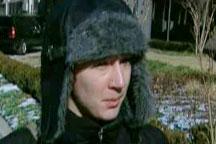 Play Video
President Hu Jintao will spend four days in the US and meet with American government and business leaders to discuss a range of issues that will include the economy and Asia-Pacific security. But what do average Americans think about China and its relations with the US? Indeed, do they even know where China is? Our Correspondent Jessica Stone pounded the pavements of Washington DC to find out.
"I'm just about a block from the White House right now, and we're talking to people today about what their thoughts are on the nation of China. What they think about the Chinese-American relationship. I'm joined now by Slambra who's a communications professional. Siambra what are the first things you think about when you hear the word, China?" Jessica Stone, Reporter in Washington said.
Siambra Moitozo, Communications Professional, said, "The first thing that comes to mind is the growth that goes on over there. I think that the US used to say it was number one on all levels, and I think that it's really imperative for our strategy for success to be working more collaboratively with nations that may know something that we don't know and be open to new ways of doing business and generally operating our country."
What do you know about China? When I say that world, what are some of the first words, pictures that come to your mind?
Asa Roper, Student of Rutgers University, said, "Well, the Olympics is one of the things that I think of. I'm a resident assistant, so I have a lot of peers or residents that are from China, so advancements in technology is also a big thing."
Susan Lavine, Preservationist, said, "huge country, fascinating, dynamic, wonderful history, and just so many exciting things and some challenges."
"I've noticed that our imports are, particularly in women's clothing, are coming from China."
"All the time. I actually check the labels, and the sweater I just bought was made in China."
Editor:Zheng Limin |Source: CNTV.CN