Watch Video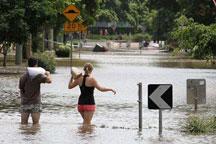 Play Video
Knee-deep water is inundating communities in south-eastern Australia. The floods reached the southern state of Victoria on the weekend following weeks of flooding that has ravaged Queensland in the north and swamped a major city.
More than 35-hundred people have been evacuated from their homes in Victoria State. 51 towns and 15-hundred properties are affected by the rising waters.
Meanwhile, the Australian Prime Minister is announcing the formation of a business task force to assist with rebuilding devastated infrastructure in Queensland, the worst-affected state.
Julia Gillard, Australian Prime Minister, said, "I've decided to bring together ten Australian leading business people to form a business roundtable to assist with corporate support as Queensland recovers and rebuilds from these devastating floods."
Anna Bligh, Premier of Queensland, said, "We can't do it on our own, we need business and corporate Australia standing with us, and we need community members doing what they're doing out there with mops and buckets, digging into their pockets and putting some money into the relief appeal."
The death toll from Queensland's disaster stands at 30, most died in a flash flood that hit towns west of the state capital, Brisbane.
The flooding in the state left a vast territory underwater, inundating 30-thousand homes and businesses. 12 people are also missing.
The price tag from the relentless floods was already at five billion US dollars before muddy brown waters swamped Brisbane last week.
Meanwhile, the tourist industry fears holiday travellers may stay away because of the devastating floods.
Related stories
Editor:Zheng Limin |Source: CNTV.CN