Watch Video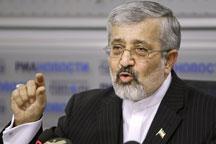 Play Video
Iran has called on international powers to move quickly on talks on nuclear fuel swap deals with Tehran.
Ali Asghar Soltanieh, the country's envoy to the International Atomic Energy Agency, says Tehran is ready to discuss a swap, on the basis of the declaration, revived last May by Brazil and Turkey. But he says Iran has nothing fresh to offer, to revive a swap proposal.
Ali Asghar Soltanieh, Iran's Envoy to IAEA, said, "If the first fuel slug will be put inside the heart of an Iran nuclear plant, there would be no excuse not to hold negotiations with the Vienna Group about a fuel swap. Time is passing quickly. Right now I can tell you that we stand behind the Tehran declaration and are ready to carry out talks with the Vienna Group regarding a fuel swap."