Watch Video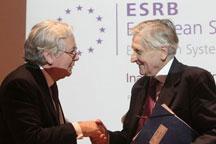 Play Video
Amid the simmering debt crisis, the European Systemic Risk Board - a body created by the EU last year to look out for threats to financial stability - has held its inaugural meeting in Frankfurt, Germany.
The board brings together central bankers from the European Union's 27 member nations and market and industry regulators. The body will be able to issue policy recommendations or warnings when it sees threats approaching.
It plans at least four meetings a year, with the next one due in mid-March. The body is calling for joint efforts to ensure the continent's financial stability.
Mervyn King, Vice-Chiarman, European Systemic Risk Board, said, "Financial stability is not something that can be achieved by one country on its own. Our financial systems are very closely interlinked, and that means there is a very strong need to work closely together if we are to be successful in promoting financial stability."