Watch Video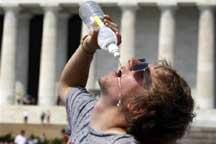 Play Video
The United Nations' weather agency, says 2010 was one of the warmest years on record, providing further evidence that the planet is slowly but surely heating up.
The World Meteorological Organization says global average temperatures last year were just over half a degree Celsius higher than the 1961-1990 period, marginally above the nominal temperature of 2005, and a little higher again over that of 1998, which were previously two of the top three warmest years on record.
Michel Jarraud, World Meterological Organization, said, "We can indeed report that 2010 is now going to rank as the warmest year on record at the same level as 2005 and 1998."
The ten warmest years after records began in 1854 have all occurred since 1998.
Rising global temperatures over the last century are causing climate experts to worry.
The Geneva-based global weather agency says that last year's extreme weather - notably the heat wave in Russia and monsoon flooding in Pakistan - has continued into the new year.
Michel Jarraud, World Meterological Organization, said, "What we can say is that with global warming some of these events will become more frequent or more intense."
The UN agency attributes the extreme weather patterns to El Nino and La Nina, which consecutively dominated the world climate in 2010, bringing warm effects and cooling effects respectively.
Apart from extreme weather conditions, the WMO also noticed further melting of Arctic sea-ice. In December 2010, ice cover around the region registered its lowest level, 1.35 million square kilometers below the 1979-2000 December average.
Related stories
Editor:Zhang Pengfei |Source: CNTV.CN