Fans of Paul The Octopus acclaimed for predicting the results of a string of 2010 soccer World Cup matches can now admire a new memorial to him at the aquarium where he rose to fame.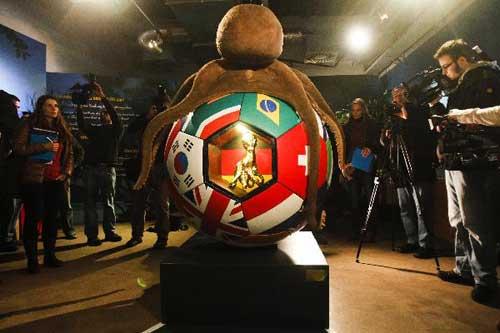 A monument of the octopus Paul is presented at the Sea Life aquarium in the
western German city of Oberhausen, January 20, 2011. (Xinhua/Reuters Photo)
A six-foot plastic replica of Paul has been unveiled at the Sea Life aquarium in Oberhausen, Germany. Paul's cremated ashes have also been placed in a gold-leafed urn in a chamber inside a ball.
Following his death three months ago, fans around the world had asked for something to remember him by.
Paul correctly tipped the outcome of all seven of Germany's games in last year's tournament, he did so by opening the lid of one of two boxes, each containing a mussel and bearing a team flag.