Watch Video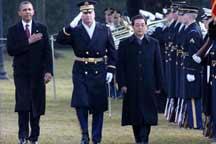 Play Video
Major foreign media outlets, have so far been positive in their coverage of Chinese President Hu Jintao's four-day visit to the United States, which began on Tuesday.
The Washington Post:
The Washington Post says President Barack Obama has stated several times that the US does not fear a stronger China and that Washington has no interest in blocking Beijing's emergence as a superpower. It also said President Hu Jintao's visit, in addition to serious policy matters, features a fair amount of glitz.
The Wall Street Journal:
The Wall Street Journal says President Obama is looking to assure Americans that they should not fear China's economic rise, using President Hu's high-profile state visit to announce job-creating business deals worth billions of dollars to US companies.
Associated Press:
Associated Press says Obama is lavishing the grandest of White House welcomes on President Hu Jintao as the leaders of the two powers look for common ground on economic and security issues without alienating their domestic audiences.
CNN:
CNN says at the joint news conference held by the two leaders, Obama praised a spirit of cooperation that is also friendly competition. President Hu told reporters the countries' relationship is based on mutual respect and mutual benefit.
Voice Of America:
Voice Of America says the scope of Wednesday's raft of trade deals will increase US exports by more than 45 billion US dollars and increase China's investments in the US by several billion dollars.
AFP:
AFP says the deals are seen as evidence of the rapidly deepening business links between the two countries.
The Times of India:
The Times of India says the four-day US visit by the Chinese president is being watched in every capital on the planet.
Editor:Zhang Ning |Source: CNTV.CN