Watch Video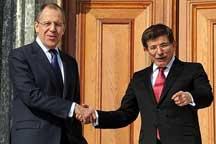 Play Video
Ahead of the nuclear talks between Iran, the five permanent members of the UN Security Council, and Germany, Russia's Foreign Minister says his country has always been against unilateral sanctions.
Sergei Lavrov's comments, came after meeting his Turkish counterpart in Istanbul. He says, he hopes current sanctions can be lifted after two days of talks on Iran's nuclear program. He said if an agreement on a future strategy over Iran's nuclear ambitions is reached, then the talks, should be seen as successful.
Sergei Lavrov, Russia's Foreign Minister, said, "As for a threat of sanctions, we never supported unilateral sanctions. And we believe that, if all countries who are participating in the negotiations with Iran agreed to work in the Security Council, and to stick together, to develop collective approaches, then any unilateral sanctions would be only serving as spoilers, and would be undermining the basis for joint effort. We explained to our partners in the United States and the European Union what we think about unilateral sanctions, and I hope they have heard us. It is counterproductive to continuing our common efforts to resolve the Iranian nuclear issue."
Editor:Zhang Pengfei |Source: CNTV.CN