Watch Video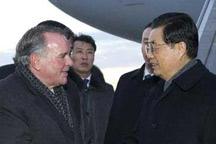 Play Video
President Hu Jintao has arrived in Chicago, after meetings in Washington with US President Barack Obama on major bilateral and world issues.
In Chicago, Hu will meet with local officials, visit a high school and an exhibition of Chinese enterprises in midwestern America. The city is the third largest in the US, and is located in the heart of the midwestern state of Illinois, where Obama was senator.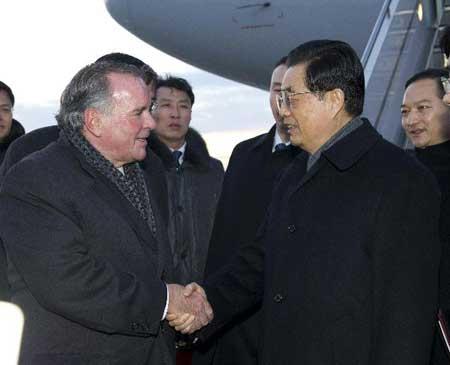 Chinese President Hu Jintao (R front) is greeted upon his arrival in Chicago,
the United States, Jan. 20, 2011. (Xinhua/Li Xueren)
President Hu arrived in the US on Tuesday. During his talks with President Obama, the two leaders agreed to build a China-US cooperative partnership based on mutual respect and mutual benefit. The trip, Hu's second to the US as head of state, is aimed at enhancing the positive, cooperative and comprehensive relationship between two countries. President Hu will wrap up his visit on Friday.
Related stories