Watch Video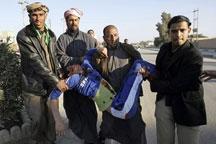 Play Video
Two car bombs have rocked the Iraqi city of Kerbala, killing at least 15 Shi'ite pilgrims.
Militants also struck police for a third day in a row, in a wave of violence that is posing a challenge for Iraq's security forces as US troops prepare to withdraw.
The explosions struck simultaneously on the outskirts of the city, outside a security cordon of checkpoints set up to protect worshippers.
Most of Thursday's dead were Shi'ite pilgrims pouring into the holy city of Kerbala, ahead of an annual ritual that is often targeted by Sunni militants.
Although overall violence has dropped since its peak in 2007, a recent wave of attacks since Tuesday, has left more than 100 people dead and hundreds wounded.
Related stories