Watch Video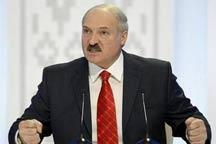 Play Video
Belarus' President Alexander Lukashenko, who has ruled the eastern European country for more than 16 years, is set to be sworn in for another five year term.
He won the country's December election taking nearly 80 percent of the vote. But the result has been widely seen as flawed by EU member states. Belarus' Foreign Ministry says the European Parliament's accusations are groundless and Lukashenko is threatening retaliation against any EU sanctions.
A police crackdown followed protests in central Minsk, where around seven hundred people were arrested,including seven of Lukashenko's nine opposing candidates. Citizens in Minsk have different views on Belarus' political climate ahead of the Presidential ceremony.
Maria Samchukova, Minsk resident said "It was an awful provocation against the people. Now many people are paying the price for that, without any guilt, although under the constitution they have the right to free speech, the right to meetings, yet their rights have been violated."
Dmitry Myskin, Minsk resident said "The majority of our people are for our president because all of the opposition is simply a laughing stock. The way they acted I think, is just laughable. Frankly speaking, I was in favor of the opposition but after I saw how they behaved they completely disappointed me."
Editor:Xiong Qu |Source: CNTV.CN