Watch Video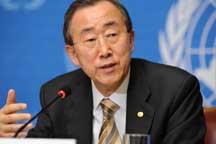 Play Video
UN Secretary-General Ban Ki-moon has called for efforts to speedily break a stalemate in the Israeli-Palestinian peace process. The UN chief once again urged Israel to freeze settlement construction on Palestinian land, so negotiations can start.
Ban Ki-moon, UN Secretary-General, said, "Settlements in the occupied Palestinian territory are illegal. On the international law (they) contravene the road map obligations of Israel, undermine confidence, pre-judge the outcome of the permanent status negotiations and hamper efforts at bringing the parties back to the negotiating table."
The UN chief says Palestinians have the right to an independent state, and Israel has the right to live in peace within secure borders. He urged finding a way for Jerusalem to emerge as the capital of the two states. Ban's speech reflected growing UN frustration with the stalemate in negotiations. The peace talks stalled just weeks after restarting last September, because Israel lifted a moratorium on Jewish settlement construction in the West Bank and East Jerusalem. The Palestinians hope to form a state that includes the West Bank and Gaza Strip. They say they will not resume talks unless settlement construction is halted.
Editor:Yang Jie |Source: CNTV.CN