Watch Video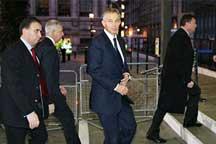 Play Video
Former UK Prime Minister Tony Blair has sought to clarify his position on the Iraq War. He was questioned over his reasons for joining the US-led invasion, during his second appearance at an inquiry held in London. Su Yuting has the story.
Tony Blair, who sent 45,000 British troops to join the US-led invasion of Iraq, in March 2003, was making his second appearance at the British inquiry.
Tony Blair, Former UK Prime Minister, said, "Of course the Americans had already a policy of regime change, that was a policy in fact articulated by President Clinton, passed in 1998, following the military action we took against Iraq -- the US and UK -- in 1998. So it was obviously going to be on the agenda. I was always going to make it clear, and did make it clear, we would be shoulder-to-shoulder with America in dealing with these threats after September 11th."
Critics claim that Blair promised US President George Bush unconditional military support on Iraq as early as 2002. Tony Blair stopped short of admitting this, but said he had always agreed Saddam Hussein had to be dealt with.
Tony Blair, Former UK Prime Minister, said, "What I was saying to President Bush was very clear and simple, you can count on us, we are going to be with you in tackling this. But there are difficulties."
The inquiry began in November 2009.
It was set up by Blair's successor, Gordon Brown, with the intention of learning lessons from the conflict, rather assigning blame.
At Blair's first appearance in January 2010, he told the inquiry he had no regrets over the military action.
That statement angered the relatives of many British soldiers killed in Iraq.
During his second appearance, around 100 people gathered to demonstrate outside London's Queen Elizabeth The Second Conference Center, where the inquiry is being held. They claim that the former Prime Minister should face war crimes charges over the affair.
Related stories