Watch Video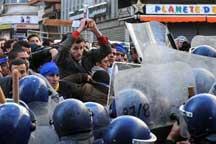 Play Video
At least eight policemen, along with 11 demonstrators and bystanders, have been injured after skirmishes erupted in Algeria.
Saturday's fracas in the country's capital, Algiers, broke out during a demonstration called by an opposition party.
Algerian riot police armed with batons and shields clashed with rock and chair throwing protesters marching in defiance of the nation's public gathering ban on Saturday.
Officials say at least 19 people were injured, but one opposition party leader puts the figure at more than 40.
Algeria has been among a number of North African and Middle Eastern countries jolted by shows of resistance, after a young Tunisian man set himself on fire last month. That incident triggered a wave of protests that led to the ouster and abdication of the nation's longtime ruler.
Demonstration organizers at the Algiers headquarters of the opposition Rally for Culture and Democracy Party draped a Tunisian flag next to their own country's colors, shortly before the start of the rally.
Backed by a helicopter and crowd-control trucks, riot police ringed the exit to ensure marchers couldn't leave the building, and forcefully struck those who tried to step outside anyway.
Authorities estimate the crowd at about 250 people, and say everyone who was injured received treatment at the scene.
Algeria enacted a law banning public gatherings in 2002.
Related stories