Watch Video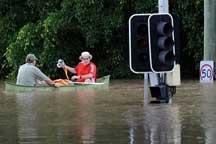 Play Video
Recent extreme flooding in Australia has created an expansive inland sea, which is expected to continue threatening rural towns for up to 10 more days.
The crisis has led to havoc and destruction across many parts of the southeastern state of Victoria, as residents struggle against the rising tide.
Record rains have shifted the emergency focus to southeast Victoria state. The region is usually parched during the summer -- but residents in Lake Charm are having to use sand bags to build levees, in order to protect their homes.
Jeff Perkins, Jeparit Resident, said, "At this stage, I think the water is starting to recede and unless a levee bank gives way, yeah there would be no problem. But I think there's enough people here that we're on the ball if something happens. We'll get there quick enough and stop it."
Almost two-thousand homes and businesses have been flooded or isolated, and close to five-thousand people have been evacuated from the area. During a visit to Swan Hill, Victoria State, Premier Ted Baillieu said many farms were cut off.
Ted Baillieu, Victoria State Premier, said, "This is not just about towns. Out there, there are farmers and farm houses all across northern Victoria, many of whom remain isolated by floodwaters."
Australia's government has yet to estimate the overall cost of the damage. But it says the recent flooding could prove to be the nation's most expensive natural disaster ever.
Editor:Zhang Pengfei |Source: CNTV.CN