Watch Video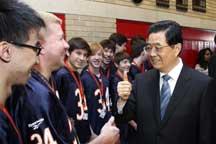 Play Video
President Hu Jintao is back in Beijing, after wrapping up his four-day trip to the US. His last stop there was the city of Chicago, where he visited a local high school, and an exhibition of companies operating in the country's Midwest.
Most firms at the display are Chinese-funded. President Hu encouraged them to play a greater role in promoting economic and trade cooperation between the two nations.
Earlier in the day, Hu Jintao toured Walter Payton College Prep, which runs the only Confucius Institute at a US high school.
It primarily focuses on Chinese language and cultural education programs. It's also the only branch targeting primary and middle school students in the country.