Watch Video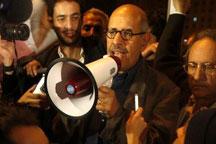 Play Video
Egyptian opposition leader, Mohamed ElBaradei appeared in Cairo's main square on Sunday evening, addressing thousands of protesters who were calling for the departure of President Hosni Mubarak. The protesers have defied a curfew imposed by the Mubarak government.
Nobel Peace laureate and democracy advocate Mohamed ElBaradei took up a bullhorn at Tahrir Square to call for President Hosni Mubarak to step down.
He told thousands of protesters who defied a third night of curfew that what they had begun cannot go back and that change can only come from the country itself.
Mohamed ElBaradei, Egyptian opposition leader, said, "As we mentioned before we have an essential demand, the departure of this regime and we will start a new phase, a new Egypt where every Egyptian will live in freedom and dignity."
Earlier reports say ElBaradei has been mandated to discuss the formation of a new government and will soon communicate with the military. Egyptian opposition parties have agreed to support Elbaradei in negotiations with the current government.
Meanwhile, protesters in Cairo marched through the streets in another defiance of a government curfew on Sunday. A large crowd of protesters made their way to Tahrir square. The army made no attempt to disperse the protesters gathered at the Square, which they have occupied since Friday afternoon.
Protester, said, "No one is afraid of the curfew, we have been afraid for 30 years and no-one is afraid now. We want freedom, we want to be free to elect a president, a real president that can really take this country forward,"
The Egyptian government has extended the curfew in Cairo, Alexandria and Suez. The curfew, previously from 4 p.m. to 8 a.m., now runs from 3 p. m. to 8 a.m. local time.
Editor:Zhang Pengfei |Source: CNTV.CN