Watch Video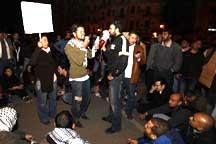 Play Video
As the unrest continues in Egypt, public safety has hit an all time low.
The turmoil is heavily affecting Egypt's tourism industry. Earlier, looters broke into the Cairo museum, which holds the world's largest collection of Pharaonic treasures. They smashed several statues and damaged two mummies. Many artifacts lay broken on the floor. But, officials say nothing was stolen. After the raid, soldiers secured the museum.
In order to protect the country's most symbolic treasure, the Egyptian military has closed tourist access to the pyramids. Tanks and armored personnel carriers have sealed off the usually bustling site.
Meanwhile, the Qatar-based satellite channel Al Jazeera was ordered by Egypt's information ministry to shut down on Sunday. Earlier in the day, their signal to Egypt was cut off. Later, other parts of the middle east couldn't receive the news channel.
Financially, officials say Egypt's banks will remain closed Monday.They say it's not safe to open them. The stock exchange also announced it will remain closed.
Editor:Zhang Pengfei |Source: CNTV.CN