Watch Video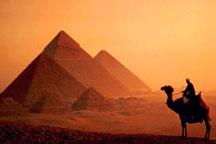 Play Video
Continued protests and demonstrations have set Egypt on a bumpy road in a start to the new year. How did this chaos begin, and where will it end? To understand the current tension, let's look back at the country's history.
Egypt is best known for its ancient cultural heritage. The country is home to the Great Pyramids, Nile River, and ancient Pharaohs, while also being known as the cradle of humanity's earliest civilization. All this history has made the nation a major tourist destination.
But this year's turmoil has brought about a different kind of spotlight.
Egypt was officially declared a republic on June 18th, 1953. Power is theoretically organized under a multi-party semi-presidential system, in which responsibilities are shared by the Chief Executive and Prime Minister. But in practice, the lead role rests solely with the Head of State, who has traditionally been elected in single-candidate votes for more than 50 years.
In 2005, Hosni Mubarak ordered reforms to the country's Presidential election law, paving the way for multi-contender polls.
The current demonstrations are the largest in more than 40 years. The grievances cited by the protesters focus on legal and civic issues -- including police brutality, state of emergency rules, corruption, and the lack of free elections or independent speech -- as well as economic problems like high unemployment, food price inflation, and low minimum wages.
Listed among the demands from organizers are political reforms.
Under the demonstrators' pressure, President Hosni Mubarak has sacked his Cabinet, while appointing a new Vice President and Prime Minister.
Editor:Zhang Pengfei |Source: CNTV.CN