Watch Video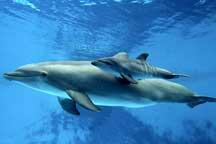 Play Video
Dolphins are known to be intelligent, good natured mammals. So scientists in southern Israel are studying them to learn about their keen senses, their organizational pack behavior and protective nature.
For decades, studying dolphins has helped scientists understand all marine mammals. These Marine biologists observing dolphins in their natural environment are discovering just how playful and curious the animals are.
Dr. Nadav Shashar, Marine Biologist, Ben Gurion University, said, "We have here an animal that is curious about another species just as we are. They come to us. You find them coming to cats and dogs. It's a species coming to another species and not just for food. That by itself makes them fantastic animals to study and to try to learn more about them."
Here at this dolphin habitat in Southern Israel, scientists and trainers work with a group of mammals from the Black Sea. They're studying everything from movement and group habits to the dolphin's extraordinary hearing and use of sonar.
Dolphins use sonar scanning in sophisticated ways to detect objects in the water. They even discovered one of their trainer's was pregnant.
Dolphin Trainer, said, "They scanned my stomach with their sonar and like the ultrasound in a doctor's office, they saw the baby growing inside. I could tell by the way they behaved with me."
Because of dolphins'extraordinary sixth sense capabilities, they are also outstanding in therapeutic settings working with people who have extreme physical disabilities and particularly with children.
Dr. Nadav Shashar, Marine Biologist, Ben Gurion University, said, "The dolphin senses limitations. Pregnancies, physical limitations, injuries and they boost self esteem for children. Having children swim with a dolphin and having it swim around you in the water, petting it and it coming to you and interact with you - it's special."
"As researchers and trainers continue working with dolphins, they're unearthing information about the sophisticated ways the dolphins communicate with each other and how they even plan and strategize their next move. Also, they're finding out that dolphins are more like humans then they ever imagined."
Similar to us, but very different.
Related stories
Editor:Zhang Pengfei |Source: CNTV.CN