Watch Video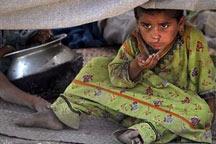 Play Video
After nearly six months, flood victims in Pakistan continue to live in makeshift tents and temporary shelters, as reconstruction moves at a snail's pace. Aid has failed to reach the most devastated areas, as thousands struggle to get access to clean drinking water and food.
These desperate scenes throughout Pakistan's south, are what hundreds of thousands of flood survivors call home.
Not being able to rely on their government, and too poor to rebuild on their own, villagers can only pray that this year's monsoon season, only six months away, won't bring the same devastation as last year.
Many communities in Sindh are still surrounded by floodwaters, as countless numbers continue to live in temporary shelters.
It's hard to see where the more than 1-billion dollars in aid, already delivered to the country, has gone.
Ramli Khosa Villager, Sindh Province, said, "We have not received anything. I am a widow. We are lying here in the cold. Everyone is falling sick because of the cold. We have no home, no rations, nothing,"
Many use their bare hands, to try and piece together what's left from their flattened homes.
Getting access to food and drinking water might mean a kilometer long journey, as aid struggles to reach those who need it most.
Penny Sims, Red Cross Spokesperson, said, "While it's unlikely that the next monsoon rains will be in the level that we've just seen last year, it's a worry when people at this very vulnerable state -- meaning when they are returning home to very little in the way of shelter, either their homes are completely gone, or they are just a few walls, or the roofs are missing -- that leaves people in a very vulnerable state indeed,"
On top of the rubble that stretches for miles, skyrocketing food prices are making an already desperate situation even worse.
Farmers say it could be years before they are able to plant again.
Pakistan's government has been preoccupied by political crises and a host of other problems, from power outages to a stubborn Taliban insurgency.
Even if it decides to speed up relief and reconstruction, generating enough funds will be a daunting challenge.
Like so many disasters past, flood survivors say they have been largely forgotten...
Editor:Du Xiaodan |Source: CNTV.CN