Backgrounder: History of Russia-Japan islands disputes
Backgrounder: Importance of Southern Kuril Islands
Watch Video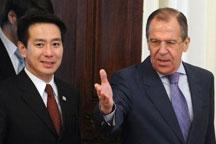 Play Video
The Russian and Japanese Foreign Ministers have failed to reach an agreement over the disputed Southern Kuril Islands. Both sides held a news conference in Moscow, after a two-hour meeting. The two countries insist on sticking to their own stances.
Russian Foreign Minister Sergei Lavrov says a number of unacceptable activities and statements have clouded his Japanese counterpart, Seiji Maehara's trip. Moscow is not willing to discuss the issue, in view of recent comments from officials in Tokyo.
Sergei Lavrov said, "Of course when a radical attitude concerning the peace agreement with Russia prevails in Japan -- which does happen from time to time -- and when this attitude is shared by the government of the country, of course it is futile to conduct any talks on this issue."
Maehara warned that attempts to attract investment by other Asian nations to the disputed Southern Kuril Islands, would complicate already stressed bilateral ties.
Seiji Maehara said, "Investments into the Northern Territories, from a third country, do not comply with the position of the Japanese side. That complicates the situation. As for creating an expert committee, during the meeting today, the differences in our positions came up again."
Tensions over the territory in question have been building up since November, when Russian President Dmitry Medvedev became the country's first leader to visit the area.
The long-running disagreement has kept the two countries from signing a peace treaty to end their World War Two hostilities.
Editor:Zhang Jingya |Source: CNTV.CN