Watch Video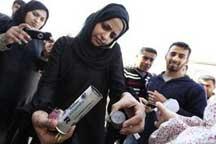 Play Video
Police in Bahrain have fired tear gas and rubber bullets to break up protests in Shi'ite villages that ring the nation's capital, Mana-ma, dampening what organizers dubbed a "Day of Rage."
Helicopters circled the area where demonstrators were scheduled to gather on Monday. Security forces also tightened their grip on Shi'ite areas. Diplomats believe Bahrain's rallies will gauge whether a larger segment of the population can be drawn to the streets, especially in the capital.
But by early evening, no marches had taken place around Mana-ma. Protest planners say they seek the dissolution of Bahrain's constitution, hoping to replace it with a new version penned by a committee of Sunnis and Shi'ites.
They also want the Prime Minister to be directly elected, all political prisoners released, and torture allegations investigated.