Watch Video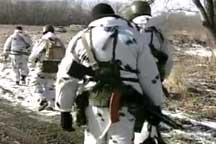 Play Video
Russia has mounted a fresh military operation, as troops clash with insurgents in the country's North Caucasus Mountains.
Although violence in Christian-majority sections of the region is rare, attacks are on the rise, and political analysts say this means extremism is spreading.
Russian troops, supported by helicopters and armored vehicles, went on the march in what was described as a military operation against extremists in North Caucasus Region.
Five insurgents and three policemen were killed in a gun battle on the border between the Christian-majority region of Stavropol, and mainly Muslim republic of Karachay-Cherkessia.
The clash follows Monday's suicide bombing in the eastern republic of Dagestan that killed one soldier and wounded six others.
A decade after federal forces drove separatists from power in Chechnya, the North Caucasus Region is still wracked by violence, as the Kremlin faces a growing challenge from rebels bent on carving out Islamic states, and installing Sharia law.
President Dmitry Medvedev has cited an increase in Islamist attacks, and says terrorism is Russia's top threat.
Earlier this month, Islamist leader Doku Umarov, a Chechen, said he had ordered a suicide bomb attack on Russia's busiest airport, killing 36 people on January 24th.
Umarov also claimed he has dozens of suicide bombers ready to be unleashed on Russian cities.
Related stories
Editor:Zhang Pengfei |Source: CNTV.CN