Watch Video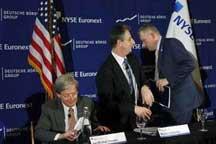 Play Video
The Deutsche Boerse and NYSE Euronext have reached a colossal merger agreement. If completed, the 10 billion US dollar deal will result in the creation of the world's biggest exchange.
While Deutsche Boerse looks forward to taking over NYSE Euronext, in a blockbuster transaction which would create the world's largest exchange operation, the two companies are dodging key questions that could threaten the merger's completion.
Instead, at joint news conferences connecting Frankfurt and New York City through simultaneous video links, officials spoke excitedly about their newly announced entity.
Manfred Gentz, Deutsche Boerse Supervisory Chairman, said, "We are here today to announce the creation of the leading global exchange group. We'll consolidate two of the most important and respected players in the world, Deutsche Boerse and New York Stock Exchange Euronext."
Upon the completion of the process, Deutsche Boerse stakeholders would control 60 percent of the stakes, with NYSE Euronext investors commanding 40 percent of the combined mega-firm's equity, on a fully diluted basis.
About 55 percent of the share-holders would come from the US, with 11 percent hailing from Germany. Another 11 percent would be based in the UK, with the remaining 23 percent diversified across the world.
The united establishment would boast more than 20 trillion US dollars in annual trading volume and operations in Germany, France, the Netherlands, Belgium, Portugal, the UK, and the US.
Duncan Niederauer, NYSE Euronext CEO, said, "This not only creates the world's premier exchange group, but there is a word we all want you to focus on today and that's `diversified.` This will position us to compete on what is increasingly a global landscape in a very competitive industry."
The deal is expected to be closed at the end of 2011, pending board and regulatory approval in both the United States and European Union.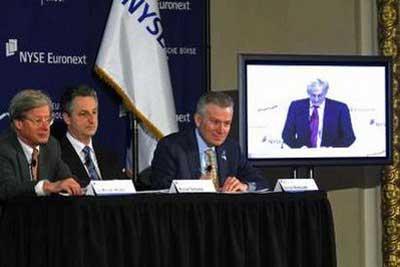 Euronext Board of Directors Chairman Jan-Michiel Hessels (L), NYSE
Chief Financial Officer Michael Geltzeiler (C) and NYSE Chief
Executive Duncan Niederauer listen as Deutsche Boerse Chairman of
the Supervisory Board Manfred Gentz speaks via video connection
during a news conference at the New York Stock Exchange, February
15, 2011. REUTERS/Joshua Lott
Studio interview: Reasons for Stock Exchangess merger
For more insight on the merger between NYSE Euronext and Deutsche Boerse, we're now joined by our current affairs commentator and China Daily columnist, Raymond Zhou. <Full story>