Watch Video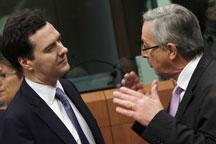 Play Video
EU finance ministers have agreed to set up a permanent rescue mechanism, starting in 2013, worth a total of 500 billion euros.
The new fund is aimed at solving the continent's year-long debt crisis. This story comes courtesy of Reuters.
The current Eurozone rescue fund is yet to be reformed, but finance ministers meeting in Brussels have agreed on its replacement.
A 500 billion euro permanent rescue fund -- called the European Stability Mechanism -- will be set up in 2013.
And unlike the current fund, it will be able to lend the whole amount if need be.
Contributions to the fund will come from Eurozone countries, the International Monetary Fund, and possibly from EU countries outside the Eurozone offering voluntary contributions.
The current fund can only lend 250 billion euros -- not enough to bail out Portugal and, potentially, Spain.
Eurogroup President Jean-Claude Juncker said more discussions were needed to solve that problem.
Jean-Claude Juncker, Eurogroup President, said, "We were addressing these different options, as we were discussing the virtues, the merits of the different options. The advantages, the disadvantages. No decision has been taken so far."
Portugal's high bond yields have been a cause for concern in recent days, but Simon Derrick, from the Bank of New York Mellon, says investors see the new development as a positive move.
Simon Derrick, Bank of New York, said, "I do see this as a good thing, and I do see the fact that the negotiations are taking place, relatively speaking, in public, as a good thing. The question for Europe, of course, is what else is going on -- clearly there have been some concerns re Greece over the past few days, and certainly concerns about whether the new government in Ireland will be prepared to stick with the package as it is currently outlined for them and, of course, we've still got the question of who is going to be the next head of the ECB, and whether it is going to be as hard a man as Axel Weber would have been."
Germany's has suggested it will support a new deal.
But it wants other Eurozone counties to increase competitiveness, and commit to spending cuts in return.
That's not popular everywhere and Finance Ministers have just over five weeks to reach a compromise.
Editor:Zhang Pengfei |Source: CNTV.CN