Watch Video
Play Video
UK Prime Minister David Cameron has turned to a new recruit, in an effort to help fend off his peskiest foes -- an apprentice armed with whiskers, claws, and sharp teeth.
Larry, a four-year-old tabby, arrived at 10 Downing Street with the task of warding off rats seen scurrying near the British leader's official residence.
The former stray, adopted from London's Battersea Dog and Cat Home, is the latest creature appointed Chief Mouser to the Cabinet Office, an unofficial post.
The last holder of this job, a male cat named Humphrey, retired in 1997, and died in 2006.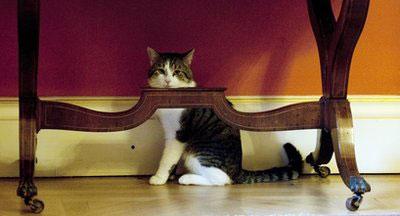 Larry the new cat for 10 Downing Street, sits under a table in the
Prime Minister David Cameron's official residence in London,
Tuesday, Feb. 15, 2011. (AP Photo/Mark Large, Pool)