Watch Video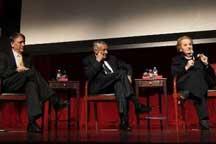 Play Video
As Egypt enters a post-Mubarak era, its relations with the US will change as well. As the nation moves towards democracy, the US is trying to understand how its strongest Arab ally will turn out.
Until Friday, President Hosni Mubarak had given no signal that he would leave before the scheduled September elections, but then, Egyptian Vice President Omar Suleiman suddenly announced that Mubarak would step down, leaving the military in control, finally giving the protestors what they want: a new start towards a new government.
General Wesley Clark, Former NATO Commander, said,"We've got to make sure that we've got the institutions right, and move forward methodically one step after another, lest the Egyptian people end up with less than they have today."
US General Wesley Clark is a former NATO commander and a member of the negotiating team that reached the Dayton Accords in 1995, ending the war in Bosnia. He says the Egyptian military has been a crucial American partner and must be the same...for its people during the transition.
"It should follow the constitution in Egypt. That's its source of authority. That's one of the reasons we need a gradual transition there. That constitution if it's improper, needs to be modified." General Wesley Clark said.
Already the military regime has dissolved the parliament and suspended the constitution, forming a committee to amend it and pledging a referendum on those changes within two months. Egypt will be under military control for six months or until free and fair elections can be held. Former US Ambassador to Croatia, Peter Galbraith says the sooner–the better.
Peter Galbraith, Former US Ambassador, said, "The public pressure would be sufficiently great to make stealing an election improbable."
With Egypt's authoritarian ruler now gone, the US loses an ally who can act unilaterally. Many Egyptians worry that a greater voice for Islamists will isolate them and increase tensions with Israel.
Foudan Salem, Egyptian, said, "If the Muslim Brotherhood control Egypt, that means the end. We will be another Iran."
But the military has vowed to uphold its international treaties, and Galbraith says with 80 percent of Egypt's US assistance funding the military, it will continue to be a moderating force.
"I don't think it's going to permit the elected government to do radical things like break the Camp David Peace Accords." Said Peter Galbraith.
For both Egypt and the US–Middle Eastern stability hangs in the balance.
Related stories
Editor:Zheng Limin |Source: CNTV.CN