Watch Video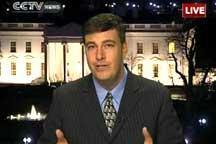 Play Video
Now for the US reaction to the unrest we are joined by our correspondent, Jeff Napshin, who's standing by in Washington, D.C. Hello, Jeff.
Q1. Can you tell us more about the Obama administration's reaction towards the situation in Bahrain and other parts of the Middle east?
Q2. What about the United Nations? UN Secretary General Ban Ki-Moon says things in Bahrain are "deeply troubling". How is the UN dealing with the unrest?
Editor:Zhang Pengfei |Source: CNTV.CN