Watch Video
Play Video
Voting has begun in Ireland's general election, the first since a financial bailout last year. The results are expected to seriously alter the country's political landscape.
3.1 million people are eligible to vote for the 570 candidates who are contesting the 166 seats up for grabs in the lower house of parliament, the Dail. The economy has been the central issue during campaigning with each party putting forward its own proposals for getting the country back on track.
Results are expected to be announced on Saturday. Outgoing Prime Minister Brian Cowen, stood down in the wake of last year's financial crisis. The new Dail will convene on March 9th.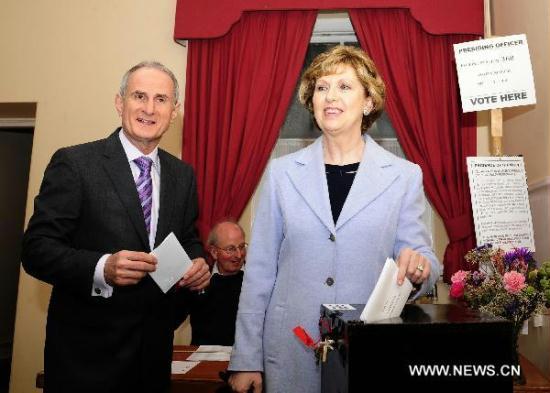 Irish President Mary McAleese and her husband Martin McAleese cast their votes at a polling station in Dublin, Ireland, Feb. 25, 2011. Ireland held an early general election on Friday, the country's first national poll since its financial bailout in late November.(Xinhua/Zeng Yi)
Related stories