Watch Video
Play Video
French President Nicolas Sarkozy has reiterated his opposition to Turkey's full membership to the European Union, during a visit to the country's capital Ankara. Sarkozy says that an alternative formula must be found.
At a joint press conference with Turkish President Abdullah Gul, Sarkozy said they should try to find a way that prevents Europe from becoming unstable, while respecting the Turkish people. Meanwhile, Gul asked France not to hinder the accession talks.
The EU launched talks with Turkey in October 2005, but steps in the accession process have been repeatedly blocked by France. French and German leaders favor a "privileged relationship" with Turkey instead of granting it full membership.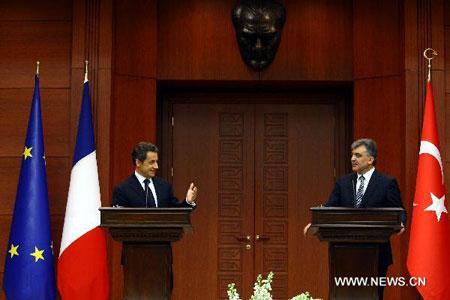 Turkish President Abdullah Gul (R) holds a joint press conference with
visiting French President Nicolas Sarkozy in Ankara, capital of Turkey,
Feb. 25, 2011. Sarkozy reiterated his opposition to Turkey's full membership
in the European Union (EU), urging that an alternative formula must be found.
(Xinhua Photo)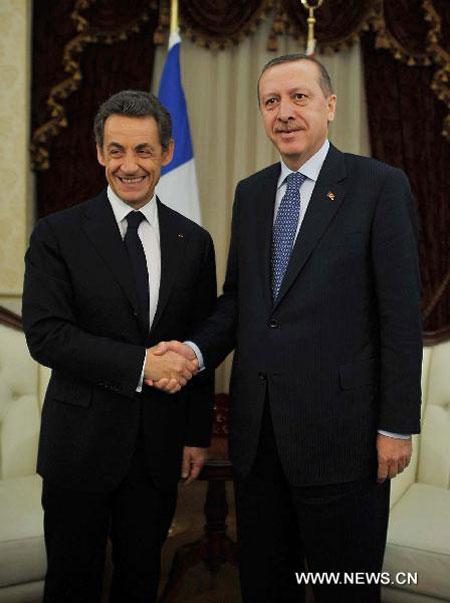 Turkish Prime Minister Recep Tayyip Erdogan (R) shakes hands with visiting
French President Nicolas Sarkozy in Ankara, capital of Turkey, Feb. 25, 2011.
Sarkozy reiterated his opposition to Turkey's full membership in the European
Union (EU), urging that an alternative formula must be found. (Xinhua Photo)
Related stories