Watch Video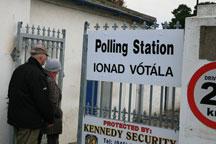 Play Video
Irish voters will also choose a new prime minister , with the current ruling Fianna Fail party, widely tipped to lose power over its handling of Ireland's financial crisis.
It's election day in Ireland.
People here are voting for new leadership at a time when Ireland is still reeling from the devastating collapse of its property and finance sectors.
The country's troubles now run so deep that a fresh start seems the only option.
Betty Purcell said, "It's a huge election. Really important and probably the most important election I've ever voted in anyway".
Mark MacLauchlan said, "I think it's an important election because Ireland really needs to reset where it is terms of its had a really shocking couple of years so we think that we need to move on and try and start again basically".
All polls show this man, Enda Kenny will emerge as the country's next prime minister.
His Fine Gael party has historically been unpopular.
But the current ruling party has lost much of its support base because of its perceived mishandling of the economy as well as of Ireland's financial bailout.
Jack Barton said, "Renegotiating the terms of the European Union and International Monetary Fund bailout will be the key issue for the incoming government. The consensus here in Ireland is that economic recovery will simply not be possible under the terms of the current deal".
Ireland received 85 billion Euros from the rescue fund, which is tied to what Ireland regards as high interest repayments, tough austerity measures and the guarantying of all investor funds.
Economist Tom O'donnell said, "The current framework of the deal is unsustainable. It won't work and certainly it is likely, sorry it is possible that it will lead to some form of restructuring of the debt, default, whatever you want to call it. Most likely to be defaulting on private debt not sovereign debt".
Ireland will soon have a new government.
But the question remains… will that government be able to really do much about the ruined economy it will soon inherit.
Related stories
Editor:Zhang Jingya |Source: CNTV.CN