Watch Video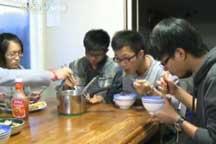 Play Video
Overseas Chinese living in Christchurch have lent hand to their compatriots who were left shelterless by the devastating earthquake. Their efforts have gone a long way toward easing the worries of families far away.
Chu Nanjun is a Chinese student studying in New Zealand. He had been there for only a month when the quake struck.
With water and power supply disrupted and aftershocks frequent, Chu's dormitory was left unlivable.
Just when he was feeling helpless, two Chinese sisters surnamed Xu offered Chu to stay in their house.
Chu Nanjun, Chinese Student in Christchurch, said, "It was my birthday and I was planning to celebrate it when the quake happened. But now I can live here for a couple of days."
Chinese students Song Chengrong and his brother Song Chengze found themelves in the same position as Chu. And they also received help from the Xu sisters.
Song Chengrong, Chinese Student in Christchurch, said, "Power supply was cut off in my place. There were constant aftershocks. I got in contact with the Xus. They happened to have water and power supply here. My parents are quite relieved that I can live here."
Zhu Lu comes from northeastern Liaoning province. She was expecting a baby the day the quake jolted. Luckily, she was kept sheltered by a kind overseas Chinese.
Zhu Lu, Chinese living in Christchurch, said, "With the baby to come anytime and no water or power, I was worried about where to live. "
Though far from their families at this difficult time, these overseas Chinese in Christchurch have nevertheless found a feeling of home.
Related stories
Editor:Zhang Pengfei |Source: CNTV.CN