Watch Video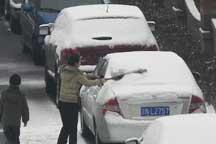 Play Video
Beijingers woke up to white on Saturday as snow fell for the third time this year on the Chinese capital. The snow is the biggest of the year and is expected to continue throughout the weekend.
Despite being bigger than the previous snowfalls, the accumulated depth is still smaller.
Experts explain that's due to the warmer weather in recent days, and also because of the higher ground temperature. Accompanying the snowfall is a drop in temperature.
The snow has completely driven away the fog that had shrouded the capital over the past four days. It didn't disrupt traffic, but some delays and cancellations were reported at Beijing Capital airport.
As of eleven this morning, 56 flights in the airport had been delayed for over one hour. And another 39 flights have been cancelled. But 233 flights have taken off on schedule.
Moderate snow fell in Beijing Saturday morning, bringing some relief to the
droughty Chinese capital in the past winter.
Related stories