Watch Video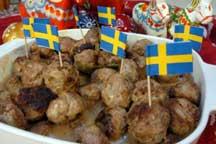 Play Video
Think about Swedish food and most people probably think of meatballs and pickled herring - but not any more.
With international acclaim for Scandinavian chefs, Nordic countries are leaving their culinary stereotypes behind. Liu Yue takes a look at the revolution in Swedish cuisine.
In Sweden, a national favorite is "Wallenbergare". That's meatballs made of minced veal, cream and eggs, seasoned with salt and pepper and coated in breadcrumbs.
Simple fare, but Wallenbergare remains a firm favorite with hungry Swedes after more than a century.
But now there is a revolution going on in Scandinavian kitchens.
Chefs from Denmark, Sweden and Norway swept the boards at last year's prestigious Bocuse d'Or cooking contest in Lyon, France, coming 1st, 2nd and 3rd in what's often called the Olympics for professional chefs.
Tommy Myllymake, Swedish Chef, BOCUSE D'or Silver Medalist, said, "We keep it very simple, just like in our design. We have a very clean style of cooking with clear flavors. Most often what you see is what you eat. We value our basic ingredients".
Sweden, Denmark, Norway and Finland have doubled their tally of Michelin stars in the past 20 years, with the world's number one restaurant "Noma", in the Danish capital Copenhagen.
Stefano Catenacci, Head Chef, said, "So much has happened. My dad always tells me that when he moved here in the 50s you had to go to a pharmacy to buy garlic. You could not get it in a regular store."
New migrants to Sweden, as well as foreign travel by Swedish chefs in recent decades have also played a big part in the revolution in the kitchen.
Ingela Stenson, General Secretary of Gastronomy, said, "Swedish cuisine is a very open type of cuisine. We have not closed the doors to other ideas and influences like some Italian and French cuisines have."
Swedish diners won't be weaned off their love affair with Wallenbergares any time soon.
But now meatballs are just one ingredient in a complex cuisine that can match any of the more established European traditions.
Editor:Zhang Pengfei |Source: CNTV.CN