Watch Video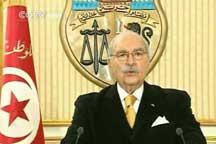 Play Video
Tunisia's interim President has announced elections to be held on July the 24th. In the vote, residents of the North African country will choose an assembly that will be tasked with writing the new constitution.
Fouad Mebazaa called for the vote during a nationally broadcast address.
Mebazaa said that by the end of March, a group made up of representatives of political parties and other civil society figures will write a new electoral code.
Fouad Mebazaa, Tunisia's interim President, said, "Today we enter a new phase toward establishing the sovereignty of the people by means of a new political system that breaks from the former regime."
Following Mebazaa's statement, celebrations broke out on Thursday night in the streets of the Tunisian capital.
Peaceful and jubilant crowds sung, waving Tunisian flags and banners.
"Today is a historic day. A historic day, essentially, in its political dimensions."
Mebazaa said he would remain in office after March the 15th. That's the date at which his interim presidency would end under the old constitution.
Related stories
Editor:Zhang Pengfei |Source: CNTV.CN