Watch Video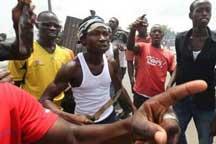 Play Video
The post election unrest in Cote d'Ivoire is continuing to be violent as opposition leaders accuse the incumbent leader, Laurent Gbagbo, of killing innocent civilians.
Fighting across the country has intensified, forcing an estimated 200-thousand people to flee their homes.
A brutal attempt to cling to power.
Security forces loyal to sitting president Laurent Gbagbo have fatally shot six women protesting against his refusal to leave office
The UN is warning of a humanitarian crisis, as hundreds of thousands abandon their homes to escape the bloodshed.
Protestors were reportedly mowed down by machine gunfire in Abobo, the epicenter of the deadliest violence in the 3-month long crisis.
The international community is stepping up its criticism.
The Security Council has expressed deep concern over the recent escalation of violence, especially in its economic capital, Abidjan, where there have been multiple reported attacks on civilians.
Cote d'Ivoire's internationally recognized UN ambassador, Youssoufou Bamba, who represents President-elect Alassane Ouattara, briefed reporters of the situation on ground.
Youssoufou Bamba,Cote d'Ivoire's UN ambassador, said, "We would like this statement to be stronger, to condemn the atrocity perpetrating right now. You recall two months ago I warned about a genocide, today I will reiterate it, the genocide in the making. They are killing people along ethnic lines."
A UN Human Rights official in Cote d'Ivoire, echoed the statements, saying the government was using any means to quell the opposition.
Guillaume Ngefa, Second Director of UN Human Rights Mission in Cote D'Ivoire, said, "In Abobo district, the government is using heavy artillery weapons against the people. This has lead to a total of 26 deaths there and has sparked an exodus of 200-thousand civilians."
The fighting has spread fears that the country could slide back into civil war.
Nearly 400 people have been killed in post election violence.
But the defiant Gbagbo has rejected all their proposals and offers of amnesty.
One of Africa's poorest countries, is holding its breath as they wait for an uncertain future.
Editor:Zhang Pengfei |Source: CNTV.CN