Watch Video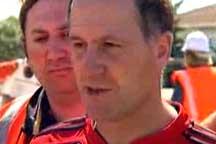 Play Video
The death toll from the Christchurch quake has now risen to 163. New Zealand's Prime Minister, John Key, toured the suburbs of the devastated city, where he was confronted by some residents who want services to be restored faster.
Of the 163 confirmed deaths, 20 have been identified so far.
Authorities say the identification process has been slow because of the extreme nature of the injuries.
Search and rescue operations are now officially over... The focus now is on recovering the bodies still trapped in the ruins. Officials expect the final death toll to surpass 200.
Prime Minister John Key toured the quake zone, and met with locals.
John Key, New Zealand Prime Minister, said, "Civil Defence, who run the operation, are of the view that they've done everything they can as best they can but, that doesn't mean we can't do more and in the perfect world we'd click our fingers and there would be tens of thousands of port-a-loos and all the things that we want but we don't live in the perfect world."
Many residents and survivors have been without water since the earthquake hit on February 22nd.
Christchurch Resident said, "Our house is structurally safe but we've got no toilets and there's nothing being put in this area so what's gonna be happening with that?"
A shipment of toilets finally arrived and were distributed in Christchurch on Friday.
Authorities said the number of portable toilets distributed throughout the city would eventually be doubled to about two-thousand. But repairing the damaged sewage system is expected to take a long time.
Energy supplier, Orion New Zealand, says it has restored power to most of the Christchurch area. Despite this, about 14-thousand are still without electricity.
Editor:Du Xiaodan |Source: CNTV.CN