Watch Video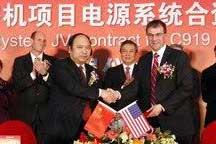 Play Video
The Aviation Industry Corporation of China has announced it will collaborate with US company, Hamilton Sundstrand Industrial Corporation, on the new generator for the C919 - China's largest domestically manufactured jetliner. The system is expected to be in use before next year.
According to the agreement, each side will own half the shares of the 145-million dollar contract. Both firms are responsible for contributing to the electricity generation and distribution systems for the C919. They'll also share the intellectual property rights of the jumbo jet.
Zhang Xinguo, Deputy Manager of Aviation Industry Corporation of China, said, "This is the first time in the history of Chinese aviation that such a large scale joint-venture company has been established. It reflects the capability of the industry in working together with top-notch foreign counterparts in nearly all aspects."
Hamilton Sundstrand is also a key supplier of electricity and high-lift actuation systems on China's ARJ21 regional jet.
Chief designer of the C919, Wu Guanghui, says the project is going smoothly so far. He adds that the cooperation will help source parts globally, in line with the practice of the international aviation industry. It will also give a major boost to China's aviation industry, helping it to march into the global market.
Editor:Du Xiaodan |Source: CNTV.CN