Watch Video
Play Video
A rocket carrying the Earth-observation satellite Glory, has plummeted into the Pacific Ocean after a failed launch attempt, delivering another blow to NASA's already weakened environmental monitoring programme.
The Taurus XL rocket carrying NASA's Glory satellite lifted off on Friday morning from Vandenberg Air Force Base in California, but only several minutes later, plunged into the sea.
It is the same fate that befell another climate-monitoring satellite in 2009, with the same type of rocket.
At a press conference, NASA's launch director attempted to explain the mishap.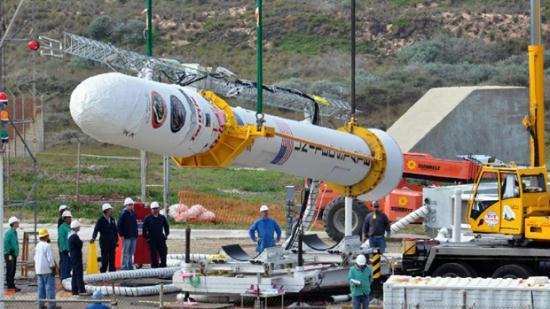 A crane lifts the Glory satellite's upper stack for attachment onto the Taurus XL rocket at
Vandenberg Air Force Base in California. The satellite failed to reach orbit Friday, NASA
says. (NASA/Associated Press)
Omar Baez, NASA Launch Director, said, "About six seconds later, after a stage two ignition we were expecting to see the fairing on the T9 separate. We didn't see the indication of fairing separation. There was other indications such as performance loss that we saw a little bit later on in flight. But, we failed to make orbit."
Officials said a protective shell on top of the rocket did not come off the satellite as it should have after launch. Glory was then without the velocity necessary to reach orbit.
The satellite and rocket are now indicated to be lying somewhere in the southern Pacific Ocean and Nasa has launched an investigation into the incident.
Glory was intended to have been on a three-year mission to analyze how the sun and airborne particles, called aerosols, affect the Earth's climate.
Editor:Du Xiaodan |Source: CNTV.CN